Practical Driving Tests in West London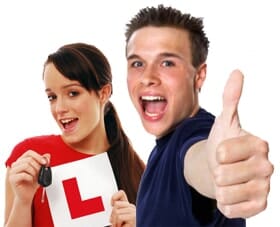 The practical test consists of a test of eyesight, safety questions and driving technique. The driving test lasts around 40 minutes and you must pass all parts of the test at the same time. A practical test costs £62 if taken within the week. Evening or weekend tests cost £75.
The driving test will start with an eyesight test. Fail to read a number plate from 20.5 metres and you will fail the whole practical test there and then.
Following the eyesight test, if you pass, is the Show Me tell Me Test. The examiner will ask you two questions. Fail to answer either question correctly, and you will score one minor fault. The questions and answers are widely published, so there is no excuse for getting any wrong. You can view the Show Me tell Me Questions by clicking here.
The driving part of your test will last about 40 minutes. Throughout the test your examiner will be looking for an overall safe standard of driving, including when you are carrying out the set exercises and manouevres.
You will have to successfully perform one of the following reversing exercises: left reverse (reversing around a corner), turning in the road, reverse parallel or bay parking.
The driving test will consist mainly of the examiner giving you verbal directions followed by 10 minutes of independent driving. Driving test routes are designed to be as constant as possible for each pupil and will include a range of typical road and traffic conditions.
If you have any questions please get in touch on Mobile: 07941 052030
OTHER AREAS WE COVER IN WEST LONDON
DRIVING LESSONS IN WEST LONDON
West London Driving School provides driving instructors and lessons in London and London in the Royal Borough of London and London including South and
Chiswick
DRIVING SCHOOLS IN WEST LONDON
We also Provide quality driving courses in Kingston in the Royal Borough of Kingston upon Thames and the nearby areas of Claygate, Norbiton, Surbiton and
Kingston
DRIVING TESTS IN WEST LONDON
Short notice and last minute driving tests at local test centres in Croydon, Iselworth, Mitcham, Sutton, Tolworth including the driving test centre in
Hammersmith